$39.99
AUD
Category: History
ABC broadcaster and bestselling author of Ghost Empire and Saga Land, Richard Fidler is back with a personally curated history of the magical city that is Prague. In 1989, Richard Fidler was living in London as part of the provocative Australian comedy trio The Doug Anthony All Stars when revolution bro ke out across Europe. Excited by this galvanising historic, human, moment, he travelled to Prague, where a decrepit police state was being overthrown by crowds of ecstatic citizens. His experience of the Velvet Revolution never let go of him. Thirty years later Fidler returns to Prague to uncover the glorious and grotesque history of Europe's most instagrammed and uncanny city: a jumble of gothic towers, baroque palaces and zig-zag lanes that has survived plagues, pogroms, Nazi terror and Soviet tanks. Founded in the ninth Century, Prague gave the world the golem, the robot, and the world's biggest statue of Stalin, a behemoth that killed almost everyone who touched it. Fidler tells the story of the reclusive emperor who brought the world's most brilliant minds to Prague Castle to uncover the occult secrets of the universe. He explores the Black Palace, the wartime headquarters of the Nazi SS, and he meets victims of the communist secret police. Reaching back into Prague's mythic past, he finds the city's founder, the pagan priestess Libussa who prophesised: I see a city whose glory will touch the stars. Following the story of Prague from its origins in medieval darkness to its uncertain present, Fidler does what he does so well - curates an absolutely engaging and compelling history of a place. You will learn things you never knew, with a tour guide who is erudite, inquisitive, and the best storyteller you could have as your companion.  ...Show more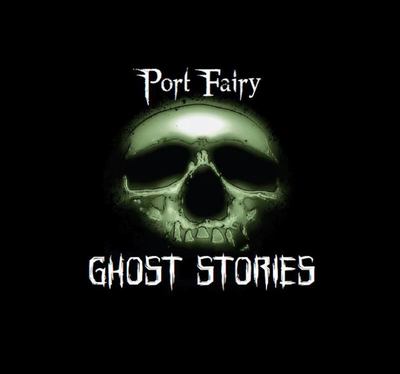 $38.00
AUD
Category: History
A collection of the town's most beloved tales of hauntings and ghostly encounters.
$34.95
AUD
Category: History
The Vanished Land is the Western District of Victoria stripped of its identity, its social elite of grazing dynasties departed for their own reasons. This melancholy exodus has increased recently as the myriad pressures of holding inherited land have become intolerable in a nation never intimidated by ditching its past. No longer is the Western District home of a ruling class that for 150 years bestrode an Australia riding on the sheep's back. The Vanished Land is a human tale of leaving, of a disconnect with the land, of submerged anguish and inhibited grief, a private story of loss told for the first time by an outsider with insider connection. ...Show more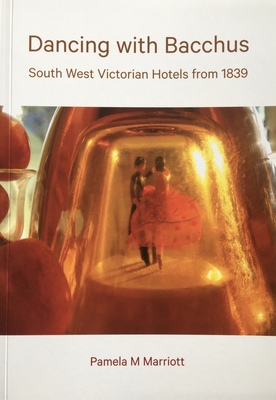 Dancing with Bacchus - South West Victorian Hotels From 1839
by Pamela M. Marriott (Annotations by, Cover Design by, Introduction by, Intro and Notes by, Editor, Arranged by, Illustrator, Compiled by, Editorial Coordinator, Research by, By (photographer), (various roles), Foreword by, Index by)
$50.00
AUD
Category: History
Dancing With Bacchus delves into South West Victoria to discover more than 350 hotels operating in the Hamilton, Portland, Warrnambool and Camperdown districts, along with their satellite communities. Starting with one fellow getting his throat cut and ending with a public house on fire, there are many tales to tell from the inns in this area. Mostly taken from the newspapers of the day, through Trove, the work is augmented with input from Ancestry.com.au and other research facilities. The work has an introduction, four separate sections, is illustrated, is annotated throughout, has listings of the various publicans, 349 pages, reference sources, a section giving meaning to 'What's in a Name?' and is fully indexed. This was a labour of love through Covid19 lockdown. ...Show more
$44.99
AUD
$49.99
(10% off)
Category: History
The epic story of the Boer War and Harry 'Breaker' Morant: drover, horseman, bush poet - murderer or hero? Most Australians have heard of the Boer War of 1899 to 1902 and of Harry 'Breaker' Morant, a figure who rivals Ned Kelly as an archetypal Australian folk hero. Born in England and emigrating to Qu eensland in 1883 in his early twenties, Morant was a charming but reckless man who established a reputation as a rider, polo player and writer. He submitted ballads to The Bulletin that were published under the name 'The Breaker' and counted Banjo Paterson as a friend. When appeals were made for horsemen to serve in the war in South Africa, Morant joined up, first with the South Australian Mounted Rifles and then with a South African irregular unit, the Bushveldt Carbineers. In September 1901 Morant and two other Australians, Lieutenants Peter Handcock and George Witton, were arrested for the murder of Boer prisoners. Morant and Handcock were court-martialled and executed in February 1902 as the Boer War was in its closing stages, but the debate over their convictions continues to this day. Does Breaker Morant deserve his iconic status? Who was Harry Morant? What events and passions led him to a conflict that was essentially an Imperial war, played out on a distant continent under a foreign flag? Was he a scapegoat for British war crimes or a criminal himself? With his trademark brilliant command of story, Peter FitzSimons unravels the many myths and fictions that surround the life of Harry Morant. The truths FitzSimons uncovers about 'The Breaker' and the part he played in the Boer War are astonishing - and, in the hands of this master storyteller, make compelling reading.           ...Show more
$34.99
AUD
Category: History
Charismatic, intelligent and handsome, George Scott is unlike any other bushranger. Born into a privileged life in famine-wracked Ireland, Scott's family loses its fortune and is forced to flee to New Zealand. There, Scott joins the local militia and fights as a soldier against the Maori in the brutal N ew Zealand wars. After recovering from a series of serious gunshot wounds, he sails to Australia and becomes a Lay Preacher, captivating churchgoers with his fiery and inspiring sermons. But Scott is also prone to bursts of madness. The local villagers back in Ireland often whispered that a 'wild drop' ran in the blood of the Scott family. One night he dons a mask in a small country town, arms himself with a gun and, dubbing himself Captain Moonlite, brazenly robs a bank before staging one of the country's most audacious jailbreaks. After falling in love with fellow prisoner James Nesbitt, a boyish petty criminal desperately searching for a father figure, Scott finds himself unable to shrug off his criminal past. Pursued and harassed by the police, he stages a dramatic siege and prepares for a final showdown with the law - and a macabre executioner without a nose. Meticulously researched and drawing on previously unpublished material, Moonlite is a brilliant work of non-fiction that reads like a novel. Told at a cracking pace, and based on many of the extensive letters Scott wrote from his death cell, Moonlite is set amid the violent and sexually-repressed era of Australia in the second half of the 19th century. With a cast of remarkable characters, it weaves together the extraordinary lives of our bushrangers and the desperation of a young nation eager to remove the stains of its convict past. But most of all, Moonlite is a tragic love story. For these are the dying days of the bushrangers and Captain Moonlite is about to make his last stand. ...Show more
$22.99
AUD
Category: History
In July 1789, 237 women convicts left England for Botany Bay in Australia on board a ship called The Lady Julian, destined to provide sexual services and a breeding bank for the men already there.This is the enthralling story of the women and their voyage. Based on painstaking research into contemporary sources such as letters, trial records and the first-hand account of the voyage written by the ship's steward, John Nicol, this is a riveting work of recovered history. The Floating Brothel brilliantly conjures up the sights, sounds and particularly the smells of life on board ship at the time and is populated by a cast of larger-than-life characters you will never forget. ...Show more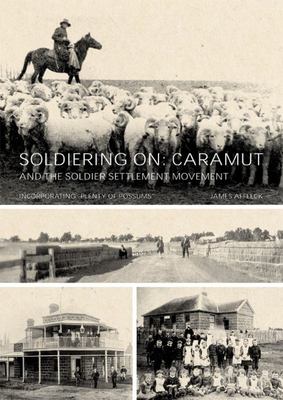 $44.99
AUD
Category: History
Soldiering On: Caramut and the Soldier Settlement Movement is a compilation of stories of the soldier settler families in the area who sent their children to Caramut State School from 1949 onwards. The first estate was Boortkoi in December 1948, followed by other estates over the next ten years or so, N areeb Nareeb (December 1948), Chatsworth House (1949), Hopkins Hill (1951), Yamba East (mid 1952), Caramut North No. 1 (1956), then Caramut North No. 2 (1956), Barwidgee (1957), and The Gums (1959).In 1988 as a Bicentennial project the Caramut History Group compiled a history of Caramut, known as Plenty of Possums. Plenty of Possums is included in this new publication as it describes the history of Caramut from the time of John Muston, virtually up to the time of the arrival of the soldier settlers in the Caramut district and leads into this later history. Soldiering On features a timeline, individual listings and stories on each of the settlement areas, the station properties from which they were carved, the families who took up the blocks, the community activities and local characters. ...Show more
$34.99
AUD
Category: History
You know about MI5. You know about MI6. Now uncover the story behind Britain's most secretive intelligence agency in the first-ever authorised history of GCHQ. Coming October 2020.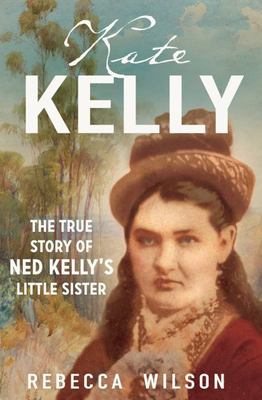 $32.99
AUD
Category: History
Kate Kelly has always been overshadowed by her famous brother Ned, but the talented young woman was a popular public figure in her own right. This moving biography tells her astonishing story in full for the first time.Kate Kelly, the daring sister of legendary bushranger Ned Kelly, was mysteriously fou nd dead in a lagoon outside the town of Forbes in 1898. At the inquest, Kate's husband Bricky Foster claimed that she was addicted to drink and frequently spoke of suicide. However, a friend and neighbour testified that she had only known Kate to drink since the recent birth of her baby and that she never spoke of suicide. Was it suicide, accident or murder, and why had she changed her name to Ada? Kate's exploits as a decoy and runner for the Kelly gang are well known, as is her presence at the gruesome Glenrowan siege, and the street protests that failed to save Ned's life. In the years after Ned's execution, she appeared at public gatherings around Australia. Huge crowds came to see her talk and ride, and she helped to popularise the Ned Kelly story, becoming a celebrity in her own right. Then she disappeared from the public eye. Rebecca Wilson is the first to uncover what really happened to Kate Kelly. It will surprise anyone who thought they already knew the story of Australia's most famous outlaw.   ...Show more
Heroes
by Stephen Fry
$22.99
AUD
Category: History | Series: Stephen Fry's Greek Myths
Mortals and Monsters. Quests and Adventures . . . There are Heroes - and then there are Greek Heroes. Few mere mortals have ever embarked on such bold and heart-stirring adventures, overcome myriad monstrous perils, or outwitted scheming vengeful gods, quite as stylishly and triumphantly as Greek heroes . In this companion to his bestselling Mythos, Stephen Fry brilliantly retells these dramatic, funny, tragic and timeless tales. Join Jason aboard the Argo as he quests for the Golden Fleece. See Atalanta - who was raised by bears - outrun any man before being tricked with golden apples. Witness wily Oedipus solve the riddle of the Sphinx and discover how Bellerophon captures the winged horse Pegasus to help him slay the monster Chimera. Filled with white-knuckle chases and battles, impossible puzzles and riddles, acts of base cowardice and real bravery, not to mention murders and selfless sacrifices, Heroes is the story of what we mortals are truly capable of - at our worst and our very best. 'Ebullient and funny' The Times 'Entertaining and edifying' Daily Telegraph 'A rollicking good read' Independent 'Fry exhibits enormous erudition and enthusiasm' Mail on Sunday 'The Greek gods of the past become relatable as pop culture, modern literature and music are woven throughout. Joyfully informal yet full of the literary legacy' Guardian ...Show more