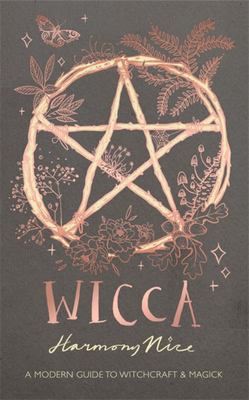 $29.99
AUD
Category: Supernatural
Witchcraft and Wicca for a modern, mystical world, from YouTube vlogger and Instagram sensation Harmony Nice The face of the witch is changing. The rise of social media has opened up a whole new world of learning and connection for devotees of real Wicca. For the "witch-curious" and for beginners looki ng for an accessible guide to Wiccan beliefs, YouTuber and Instagram sensation Harmony Nice reveals how you can explore natural magic and healing for yourself. Complete with beautiful illustrations, Harmony introduces Wicca and its benefits, and what life is like for a modern-day Wiccan. She explores the positive impact that ritual and meditation can have on your confidence and mental health, and how the practice can help you to find your true self, build inner strength, and establish a harmonious connection with nature. For those just getting started, she offers practical guidance on: using crystals, wands, tarot cards, and magical tools setting up an altar introductory spells for health and protection creating your Book of Shadows finding your own witchy path--solitary or with a coven ...Show more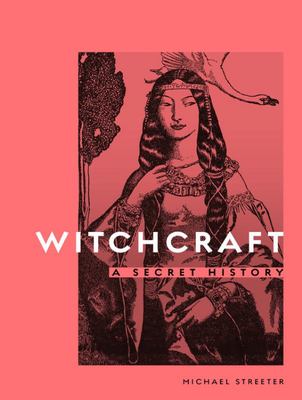 $29.99
AUD
Category: Supernatural
Witchcraft 1/2s great secret stems from the fact that few people understand its true essence. Here's the book that explains how Wicca, the religion of witchcraft, came into existence. A detailed discussion of witchcraft's origins begins with accounts from ancient civilizations, then progresses forward t o describe present-day manifestations of the art. Although witches and witchcraft are a part of popular culture and favorite subjects in film and TV, this spiritual movement's true history should not be confused with tales of wart-nosed hags who fly through the night on broomsticks. This history of witchcraft includes: Witchcraft in Judea during the reign of King Solomon . . . Medea and Circe, legendary witches of ancient Greece . . . The place of witchcraft among barbarian tribes in ancient northern Europe . . . The seventeenth-century New England trials of the witches of Salem . . . Gerald Gardner and the birth of modern Wicca as a nature religion . . . Witchcraft as it is taught and practiced today. This book points out how modern witchcraft has evolved into a benevolent religion, a spiritual expression of feminism, and a practice that encourages reverence toward nature. More than 200 full-color illustrations enhance an intensely readable text. ...Show more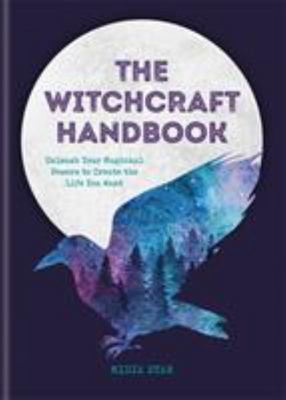 $19.99
AUD
Category: Supernatural
Embrace your inner witch. Packed with spells, potions and witchy wisdom, use this magickal guide to enhance every aspect of your life. From the effects of the moon to the use of candles to enhance spells, learn how to protect your home, fulfill your dreams, boost your love life, banish ill chance and s ecure your future. Isn't it time you unleashed the power of magick? ...Show more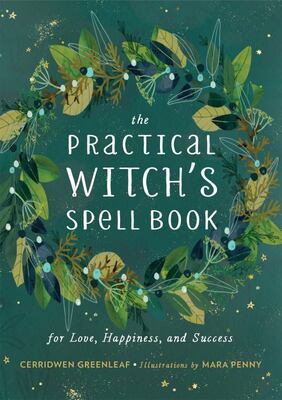 $24.99
AUD
Category: Supernatural
What does it mean to be a practical witch? It's all about tapping into an inner place of intention, energy, and empowerment to bring about positive change in your life and those of your loved ones. This enchanted guide is for spell-casters of all levels, with hundreds of spells, blessings, and rituals f or love and happiness, success and prosperity, health and healing, money and career, and more. Now you can enrich your mind and spirit by bringing an abundance of joy and magic to your daily life. Book jacket. ...Show more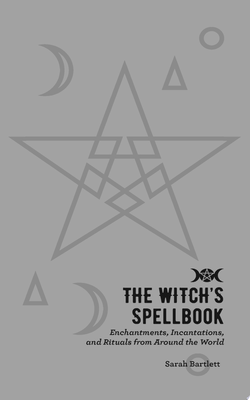 $24.99
AUD
Category: Supernatural
Magic is in every part of the living world--one just needs to know how to tap into it.The Witch's Spellbook is a powerful collection of spells, rituals, and enchantments that you can use to tap into your intuition and the power of the natural world. This book reveals how, by casting spells that align to the cycles of nature and the universe, you can begin to manifest your dreams and shape your destiny. Organized by topic, such as spells for prosperity, charms for body, beauty, and sex, or enchantments for creativity and charisma, each spell draws upon world traditions, sacred holidays, and lunar events such as solstices and equinoxes. Whether you're new or experienced, this is every person's guide to practical magic. ...Show more
Witch's Way
by Shawn Robbins; Leanna Greenaway
$22.99
AUD
Category: Supernatural | Series: The\Modern-Day Witch Ser.
This follow-up to the wildly successful Wiccapedia, written by the two authors of that book, gives readers a broader knowledge of Wicca, nature magick, and spellcraft today. Includes a four-color insert on pentacle magick With more in-depth explorations of nature magick and divination, this beautifully illustrated guide to witchcraft is a must for all Wiccans in search of greater knowledge. It covers everything from hedge witches to druids; working with cosmic helpers like angels, gods and goddesses, and spirit guides for a variety of spells; nature magic--from drawing down the moon to psychic plant power; tapping into cosmic power; and developing your sixth sense, mastering tarot, using angel numbers, and spiritual astrology. An FAQ section at the end answers the most-asked questions about the craft. ...Show more
$32.99
AUD
Category: Supernatural
The Witch's Herbal Apothecary is a magickal book of recipes, rituals, and materia medica for reconnecting with the power and healing of Earth Magick. Author Marysia Miernowska is the Director of one of California's most renowned herbal schools and named one of the "top 15 witches on Instagram" (@marysia _miernowska) by Huffington Post. Mother Earth is a living entity that holds great medicine to heal us physically and spiritually. However, in today's modern world, too many of us are separated from this source of nourishment. Using the wheel of the year as a framework, you'll begin to understand the currents of nature and how to weave yourself back into this great web of life. Using the plants, seasons, and cycles as your tools, you will be able to tap into the potent Earth Magick of life, death, renewal and rebirth. You will learn ways of growing medicine, harvesting from the wild or home garden, processing plants, and making remedies--all in harmony with the seasons. Each season opens a portal of magick that allows you to harvest the literal and spiritual gifts the Earth is offering at that time.The Witch's Herbal Apothecary will awaken the Witch inherent in every wild soul and guide her into an empowered relationship of healing and magick with the natural world. ...Show more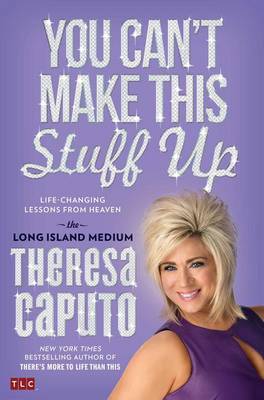 $29.99
AUD
Category: Supernatural
For fans of TLC's "Long Island Medium" and anyone interested in the big questions of life, death, and finding out what's important in between, "New York Times" bestselling author and medium Theresa Caputo shares the insights and lessons she's learned through her exceptional gift of communicating with th e dead. In her first book, "There's More to Life Than This," Theresa shared how she discovered her gift and her many encounters with Spirit. Now, in "You Can't Make This Stuff Up," " "Theresa imparts the life-changing wisdom she's received from Spirit and client readings. Each chapter incorporates a powerful lesson that is made real by Theresa's witty and wise insights. She shares moving client stories and fascinating behind-the-scenes tales from her life and hit reality show to help people find peace and closure and to better understand the spiritual world. With lessons revolving around themes such as choice, faith, fear, gratitude, healing, surrender, relationships, compassion, and living each day to the fullest, the book also includes information from Theresa about spiritual concepts like Angels, Heaven, signs, miracles, intuition, dreams, and God. These compelling and healing messages will guide readers toward happier lives by focusing on what really matters to their souls. ...Show more
$29.99
AUD
Category: Supernatural
"Terrifying real life encounters with ghosts and spirits" Published for the first time, MJ Wayland releases fifty real-life ghost experiences told by the witnesses. Carefully selected, this book is a collection of some of the most strangest, weirdest and down right spookiest stories that the author has uncovered over the last three decades of investigation. Stories include: EXPERIENCES IN AN OLD LONDON PUB MY CHILD'S GHOST VANISHING SCHOOLGIRL THE GLASGOW GHOST THE GHOST OF ST ALBANS THE HOTEL MYSTERY THE GRINNING GHOST THE SEA CAPTAIN'S HOUSE THE CANAL BUILDING GHOST NORTH YORKSHIRE GHOST NORMAN RETURNS HEADLESS DOG OF MANCHESTER THE HAUNTED HOLIDAY THE HAUNTED MARSHES WEIRD EXPERIENCES HAUNTED AIRFIELDS BLACK MAGICK GHOST SOUTH WALES HAUNTING CHESHIRE COTTAGE HAUNTING THE PARANORMAL FOLLOWS ME DON'T STAY HAUNTED GRAVEYARD HAUNTED PIANO TEXTING GHOST THE NIGHTMARE LADY THE OLD NURSING HOME FLOATING GHOST GHOST WITH NO MOUTH HAUNTINGS IN THE DALES GHOSTS IN THE MACHINE HAUNTED HARROGATE HOUSE GHOST ATTACK OR NIGHTMARE? THE SCHOOL'S GHOSTS THE MYSTERY LADY A30 GHOST A GHOST IN SUFFOLK A PUB WITH SPIRITS MY EXPERIENCES OF WINGATES GROVE MY NEIGHBOUR RETURNED THE GHOST CAR THE GHOST OF THE HALIFAX BOMBER OUIJA BOARD EXPERIENCE HAUNTINGS AT KENTISH TOWN AND MORE Excerpt from the book: "A ghost story should never end perfectly. That is my rule of thumb. After investigating ghost experiences for nearly thirty years, I realised that the finely polished stories told by storytellers and "ghost walkers" were exactly that - polished. In polishing stories we lose the personality of the haunted and indeed the haunter itself, that's why in my books, research papers and articles, I always maintain the original testaments and facts. The stories that I have collected for you now are rough diamonds, totally unpolished and any additions by myself are kept to a minimum and noted clearly. As I began to compile these stories I began to realise that I was actually becoming very affected by them and I am sure you will too. There is no doubt you will have your favourites once you have read the book, but mine are as follows. One of the standout stories for me, is "The Ghost with no mouth" - a series of terrifying experiences in a modern house in which the witness's child describes the ghost as having "no mouth and wears black boots but is naughty." The experiences were very real to the family involved, and you wonder if "Black Square" continues to haunt this dwelling. Another story "The Mystery Lady" is downright creepy, a man encounters a strange woman on a deserted train station, she mumbles to herself and refuses to get on board the last train to Portsmouth. The next day he discovers that he was actually talking to a ghost I spare you the details so not to spoil the story, but you will certainly have a chill In total there are fifty real experiences with ghosts and spirits included in this book and all direct from the witnesses themselves. None of them wanted their names publishing or any publicity about their experiences but all of them had the need to share, and share they have done." ...Show more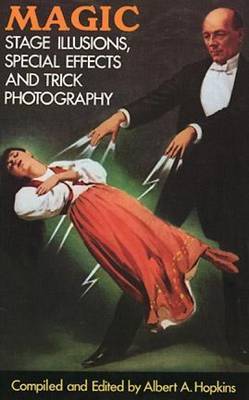 $27.95
AUD
Category: Supernatural
Standard work on classic stage illusions -- fire eaters, sword swallowers, jugglers, etc. Also ancient magic, automata, chronophotography, much more. Over 400 illustrations. Bibliography.
$24.99
AUD
Category: Supernatural | Series: Everything® Ser.
Shadowpeople ... cold spots ... orbs. Ghosthunter Melissa Martin Ellis takes readers on an exciting high-tech journey into the supernatural world of haunted sites, restless souls, and messages from beyond the grave. Readers explore motion sensors, highly sensitive digital cameras, and so-called Ghost Te lephones, as well as the supernatural phenomena themselves, including: Poltergeists Electronic-voice phenomena (EVP) Possession Photo anomalies Séances and voodoo rituals Appealing to the same audience as such popular TV shows as Lost, Medium, Invasion, Charmed, Ghost Hunters, Destination Truth, and Most Haunted, this book shows readers how today's investigators use the tools of modern science to study a wide range of paranormal activity. ...Show more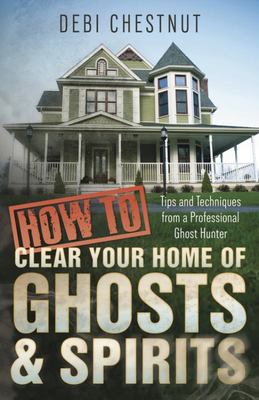 $24.99
AUD
Category: Supernatural
When it comes to spirits and specters, knowledge is power and fear is the enemy How to Clear Your Home of Ghosts & Spiritsis a guide to everything you need to know to get rid of ghosts. Providing a brief history of haunts and delving into her own personal experiences, paranormal researcher Debi Ches tnut sheds light on the different types of ghosts--from harmless spirits to destructive entities--and gives tips and techniques for clearing them. Join Debi as she explores how ghosts and spirits can be accidentally invited into the home and shows how to choose a paranormal team for extreme cases. Written in a no-nonsense style by an author with years of experience, this guide is a must-have for those who prefer to live with the facts instead of living in fear. ...Show more