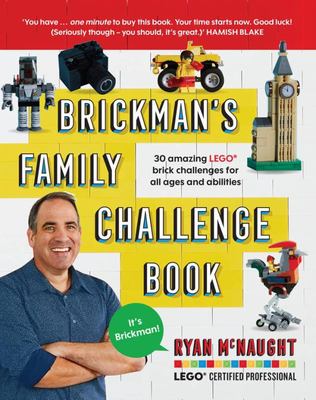 $35.00
AUD
Category: Lego Books
Lego building challenges for all ages and levels by the star judge of the smash hit TV show LEGO® Masters. Challenge each member of your household to a building competition that is the brainchild of Brickman himself, star judge of the smash hit TV show LEGO® Masters Australia and a LEGO Certified Profes sional. Each of the 30 challenges can be attempted at beginner, intermediate and advanced levels. So whether you're 5 or 105, an infrequent brick builder or a huge LEGO fan, this book will get you off your screen and get your creative juices flowing with even the most basic LEGO collection.Including:- Maze runner: build a maze with obstacles and design themes- Model mashup: roll a die to determine which hybrid model you need to build in under 2 hours-a Supersonic Banana Plane, anyone?- Self-portrait: one of the hardest things to build with LEGO is curves, but Brickman helps you crack the techniques for building a recognisable 3D portrait of yourself.Packed with pro tips and suggestions on how to take your builds to the next level, as well as a 'know your bricks' glossary, this book will turn you into a Master LEGO Builder in no time.Are you up for the challenge?   ...Show more
$24.99
AUD
Category: Lego Books
Who will win this Super Hero vs super-villain showdown? With two fantastic LEGO minifigures, Batman and The Joker! The Joker and his fiendish friends are causing trouble, but Batman and his Super Hero allies are ready for battle. Which team will be the winner? Read about amazing Super Heroes and wick ed super-villains. Discover their awesome powers and accessories. Decide who comes out on top in each battle, including Batman vs Poison Ivy, The Flash vs Captain Cold, and Firestorm vs Firefly. ©2020 The LEGO Group.(tm) & © DC Comics. (s20) ...Show more
$29.99
AUD
Category: Lego Books | Series: LEGO Disney Princess Ser.
Welcome to the Magical Castle! I'm the Mysterious Messenger!  I've built it for the Disney Princesses, and it's always changing as I come up with new ideas for it. Lots of princesses have rooms inside it: Cinderella, Ariel, Rapunzel, Belle, Mulan, Snow White, Aurora, Moana, Tiana, and Jasmine. It has a library, a ballroom, and even some secret rooms the princesses haven't found yet! I love surprising them with new adventures. I'm writing this book so that I can keep all of my awesome ideas for them in one special secret place! ...Show more
$29.99
AUD
Category: Lego Books
Comes with exclusive bricks and game ideas to get the whole family playing together! Looking for ways to spend more quality time with your kids? Want exciting screen-free activities that all ages can enjoy together? Build in some time for fun with The LEGO® Games Book! This book is packed with more than 50 activities, including puzzles, challenges, brainteasers and games to do with LEGO bricks for kids aged 6 years and up - and grown-ups, too! Who can build the tallest tower in less than 30 seconds? Which team will win a no-thumbs building challenge? Can anyone solve the sliding brick puzzle? Get out your LEGO® bricks and put your family and friends to the test with more than 50 fun puzzles, challenges, brainteasers and games for kids aged 6 years and over - and grown-ups, too! The LEGO Games Book also includes all the LEGO bricks you need to complete at least ten of the challenges in the book. Packed with LEGO building ideas and activities for the whole family, there's a challenge or game for everyone to enjoy. Bring screen-free family fun home with The LEGO Games Book. You can build and play together to create memories that will last a lifetime! ©2020 The LEGO Group. ...Show more
$16.99
AUD
Category: Lego Books | Series: Lego Ser.
It's time to celebrate! Build your birthday minifigure and get ready to party in this awesome birthday puzz le book. It's bursting with stickers, puzz les, mazes, pictures to draw and colour, a poster, and hilarious birthday stories. So grab your pens and pencils, and join the party now! This book con tains a birthday minifigure, posters, stickers and activities! ...Show more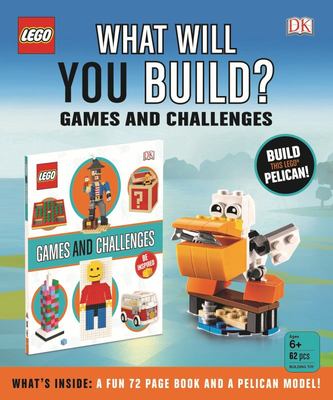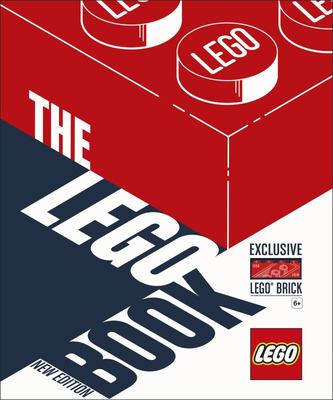 $39.99
AUD
Category: Lego Books
Celebrate and explore the incredible story of the LEGO Group and its much-loved bricks, sets, minifigures, movies, games and more. Take a dazzling visual tour through all the groundbreaking moments in LEGO history, from the company's humble beginnings in a carpenter's workshop to the invention of the ic onic LEGO brick and LEGO minifigure, through to the stunning toys, video games and movies of today, including LEGO Star Wars., The LEGO NINJAGO MOVIE., and LEGO Dimensions. This special edition of The LEGO Book has been fully updated and expanded with the latest LEGO sets and fascinating facts to commemorate the 60th anniversary of the LEGO brick and the 40th anniversary of the minifigure. Go behind the scenes to learn how LEGO bricks are made; find out how amazing fan creations become real-life LEGO sets, and marvel at how LEGO bricks made it to the computer screen and the big screen. Created in full collaboration with the LEGO Group, The LEGO Book is a treasure trove for LEGO fans of all ages - and this very special edition comes with an exclusive 60th anniversary printed brick. ...Show more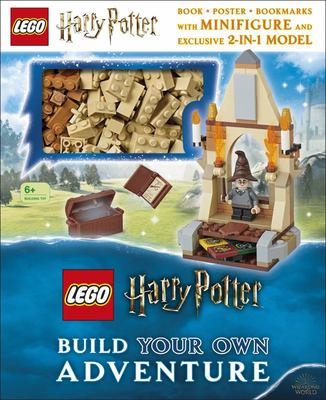 $39.99
AUD
Category: Lego Books | Series: LEGO Build Your Own Adventure
Bring the world of Harry Potter to life at home with more than 50 brilliant building ideas! Conjure your own magical world with more than 50 ideas to inspire your own LEGO® Harry Potter™ models. Plus, a Harry Potter minifigure and all the bricks you need to make an exclusive 2-in-1 LEGO Harry Potter mod el! The perfect gift for a LEGO Harry Potter fan, LEGO Harry Potter Build Your Own Adventure features model ideas and expert build tips to help you recreate classic movie moments from Harry Potter and the Philosopher's Stone. Send Hogwarts letters flying in the Dursley's living room. Explore Diagon Alley with Harry and Hagrid. Cook up a Halloween feast in Hogwarts' Great Hall. Build your own wizard chess board and Devil's Snare plant. Exclusive LEGO Sorting Hat spinner model can be rebuilt as a magical, revolving fireplace. LEGO Harry Potter Build Your Own Adventure also contains Harry Potter and Albus Dumbledore bookmarks and a fun poster. HARRY POTTER characters, names and related indicia are © & ™ Warner Bros. Entertainment Inc. Publishing Rights © JKR. (s19). ©2019 The LEGO Group. ...Show more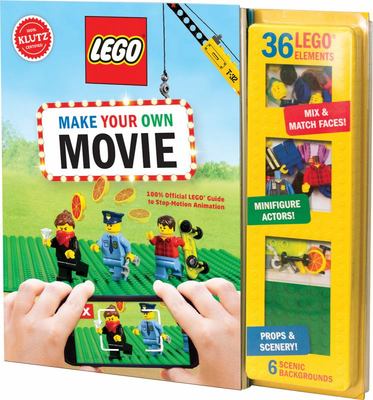 $29.99
AUD
Category: Lego Books | Series: Klutz
100% Official LEGO® Guide to Stop-Motion Animation Lights . . . camera . . . action! Bring your LEGO minifigures to life with this beginner-friendly guide to stop-motion animation. Ten "Mini Movies" walk you through using your phone, tablet, or computer to make short, funny clips with step-by-step inst ructions. Set the stage with any of the six included background settings and thirty-six LEGO elements including a pizza, banana, baseball cap, six minifigure heads, and more! Plus, learn the tricks of the trade as you dive into more advanced skills, such as lighting, sound effects, and camera angles. With these tips and tricks, every movie you make is guaranteed to be a successful smash hit. Comes With: 36 LEGO® elements, Foldout paper backgrounds, Punch-out animation frames ...Show more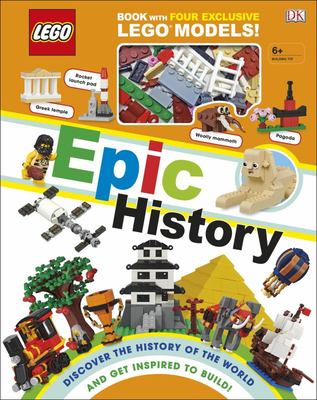 $35.00
AUD
Category: Lego Books
Discover the past like never before - in LEGO® bricks! Discover the history of the world and get inspired to build your own epic LEGO® models! Covering global history from the earliest humans building fire and inventing the wheel, to a modern day city with sustainable energy technology and robots, LEGO Epic History is the perfect introduction for children learning about the past. Best of all, the book comes with bricks to make four exclusive LEGO mini-builds - woolly mammoth, Parthenon, pagoda, and rocket launch pad. LEGO models and minifigures bring to life scenes from the most epic historical periods and inspire children to get creative and build their own! Covers fun, accessible aspects of history through time and place, from the Ancient Egyptians to the Space Race and from Aztec temples to Chinese inventions. ©2020 The LEGO Group. ...Show more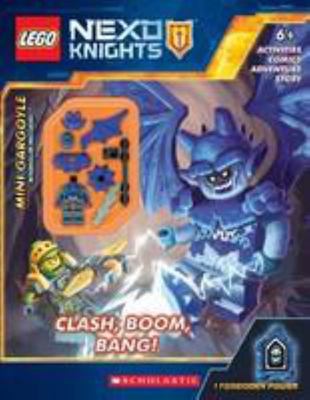 $12.99
AUD
Category: Lego Books
Set in the futuristic, high-tech world of the Kingdom of Knighton, LEGO(R) Nexo Knights(TM) follows five young knights in their quest to battle Jestro, his sidekick, the Book of Monsters, and their Lava Monster Army. This awesome activity book is packed with fun games and tricky puzzles-plus it comes wi th a minifigure! ...Show more
$5.99
AUD
Category: Lego Books | Series: LEGO Ninjago
Master Wu with a plaited beard, a giant magnet...what is going on? There's only one person who knows: you! In this book you will decide what the Ninjago world looks like. So use your imagination, get scribbling, inventing and building, and find out which Spinjitzu Master you resemble the most!