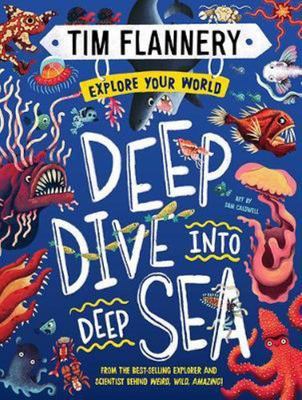 $23.99
AUD
$26.99
(11% off)
Category: Children's Reference | Series: Explore Your World
Get ready to dive into the darkest depths of the sea with real-life explorer and scientist, Professor Tim Flannery. You might think you know about the ocean, but the deep sea is nothing like the beach. Things are WEIRD down there.  Who is the giant squid's mortal enemy? Can you see ghosts in the deep se a? Why would a sea cucumber have teeth on its butt? And what on earth is a headless chicken monster? Put on your SCUBA gear - you're about to find out!   From the author of the best-selling Explore Your World: Weird, Wild, Amazing!, this compendium will enthral and enlighten readers with bizarre facts and vibrant illustrations of the most incredible creatures hiding in the deep sea. Prepare to gasp, laugh and squirm in disgust! ...Show more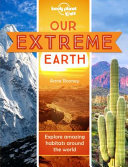 $19.99
AUD
Category: Children's Reference
From the otherworldly landscapes of the Atacama Desert to the thundering Victoria Falls in Zimbabwe, journey to jaw-dropping habitats around the world and learn about the people and creatures that have adapted to living in such extreme environments. With mind-blowing facts to be amazed by, incredible p hotographs throughout and advice on protecting ecosystems for future generations, this book is a fantastic and entertaining read for children. From the world's highest sand dunes in Iran's inhospitable Lut Desert, the hottest place on Earth, to the world's only marine iguanas in the remote and volcanic Galapagos Islands, writer Anne Rooney charts a course to some of the planet's most unique ecosystems. Accompanied by incredible full-colour photographs throughout, kids will stumble upon lush rainforests, mighty mountains, scorched deserts and much more. From the kaleidoscopic corals of the Great Barrier Reef to untouched tropical rainforests in Papua New Guinea, no corner of our extreme earth is left unturned!  ...Show more
$9.99
AUD
Category: Children's Reference
A wisdom of wombats? A loveliness of ladybirds? A parcel of penguins? Come along on an illustrated journey through the animal kingdom with CBCA award-winning Tasmanian artist Jennifer Cossins. Featuring 28 full-colour animal illustrations, each with its very own collective noun, this book will delight c hildren and adults alike. ...Show more
$19.99
AUD
Category: Children's Reference
A bumper book of maths fun stuffed with things to draw, puzzle, invent, order, unscramble, code, decode for kids aged 7+ years from Australia's best known maths man. There's magic in maths - if you know where to look...
$6.99
AUD
Category: Children's Reference | Series: Primary English
Pascal's Basic Primary Spelling Years 1-4 show s students how to master the basic letter/sound relationships that are t he foundation of good spelling. It moves step-by-step through to longer and more difficult words. Even the poorest spellers will be motiv ated to learn because of the highly visual pr esentation and the enjoyabl e activities. Once students have learnt the basic concepts contained in this book they should be able to approach all future spelling tasks with confidence. Contents: sounds and blends using sounds vowel sounds endings rhyming words silent letters blends and endings singular and plural word endings contractions< /li> frequently misspelled words homophones answer s ...Show more
$24.99
AUD
Category: Children's Reference
There's a Zoo in your Poo!It needs a ZookeeperAnd that Keeper is YOU!Did you know that trillions of tiny bugs live in and on all of us? And there's a Zoo of bugs in our poo. But which are the good bugs and which are the bad? What should we eat to keep our good bugs happy and our body strong?Get to the g uts of what you need to know about you and your poo.Professor Felice Jacka is a world expert in the field of Nutritional Psychiatry and gut health. Teacher and musician Rob Craw is a world expert at drawing bugs! They want kids to know all about the amazing stuff going on in their bodies.Get ready for a journey inside the most exciting of places ... YOU!   ...Show more
$32.99
AUD
Category: Children's Reference
Ever wondered how we got from nothing to something? Or thought about how we can weigh the earth? Or wanted to reach the edge of the universe? Uncover the mysteries of time, space and life on earth in this extraordinary book - a journey from the centre of the planet to the dawn of the dinosaurs, and ever ything in between. And discover our own incredible journey, from single cell to civilisation, including the brilliant (and sometimes very bizarre) scientists who helped us find out the how and why. ...Show more
$19.99
AUD
Category: Children's Reference
With a contemporary design, fun information and engaging images, the books in the A-Z series are the perfect first guides to popular non-fiction topics.  
$19.99
AUD
Category: Children's Reference
Take your place in the Green Nation, a nation without geographical borders that unites the youth of today in their fight for the planet.   From the economy and new professions, to advanced technology and sustainable start-ups, learn how the world needs to change in order to secure its future, and find o ut what role you can play in that change.   With in-depth text and data, this crucial book will answer readers' questions on what comes next in our fight for the future.   ...Show more
$29.99
AUD
Category: Children's Reference
Did you know that there are plants that eat insects? Plants whose seeds spread in poo? Plants that move when you touch them? And plants that grow on other plants? Plantastic presents 26 of Australia's most unique and incredible native plants. Discover and identify native plants found in your local park, bushland, or even in your very own backyard. With its perfect balance of fun facts, activities, adventurous ideas and gorgeous illustrations, Plantastic will prove just how fantastic Australia's native plants really are Features: Full of interesting facts about Australian native plants that will get kids excited about the plant world and gently introduce general scientific concepts.Provides a Plantastic Activity for each featured species to encourage kids to search for and engage with the plants in their local area.Explains traditional Indigenous uses for some plants - including hunting, fishing, building and medicine.Includes common plants with wide distributions so that kids can discover more about their local flora, no matter where they live in Australia.The bright and beautiful illustrations will help kids easily recognize the plants from this book out in the wild.   ...Show more
$24.99
AUD
Category: Children's Reference
Coming about From dinghies to freight liners, pirate ships to submarines, across oceans and up rivers, set sail on a fascinating journey through the world of ships in this new book from illustrator James Gulliver Hancock. In this companion to How Airports Work and How Trains Work, young readers travel t hrough history and around the world to find out everything they ever wanted to know about ships. Lift the flaps to unfurl papyrus sails on an Ancient Egyptian ship sailing up the Nile, tour a historic Spanish galleon, zoom across the water at almost 320 miles per hour in a speedboat, and much more. See how ships stay afloat, cultivate wind power, and navigate using the stars . Learn all about how the first simple boats carved out of tree trunks evolved into the giant super yachts and cruise liners of today, and take a look at the limitless possibilities of the ships of the future. How Ships Work is jam-packed with amazing facts and awesome illustrations, and was created in consultation with the National Maritime Museum, UK. About Lonely Planet Kids: Lonely Planet Kids - an imprint of the world's leading travel authority Lonely Planet - published its first book in 2011. Over the past 45 years, Lonely Planet has grown a dedicated global community of travelers, many of whom are now sharing a passion for exploration with their children. Lonely Planet Kids educates and encourages young readers at home and in school to learn about the world with engaging books on culture, sociology, geography, nature, history, space and more. We want to inspire the next generation of global citizens and help kids and their parents to approach life in a way that makes every day an adventure. Come explore ...Show more